iSight is a state-of-the-art video camera that's the easiest way to video conference with your colleagues, friends and family over broadband. Featuring an autofocusing autoexposure F/2.8 lens which captures high-quality pictures even in low lighting, iSight also includes a dual-element microphone in its stylish compact aluminum body.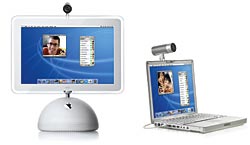 Like no other camera
Apple brings award-winning product design to iSight — and it's like no other camera available today. A versatile, durable, lightweight and portable camera capable of delivering high-quality audio and video, iSight features a strong aluminum-alloy exterior which protects sophisticated electronics and its autofocus lens. A single FireWire cable streams video and audio and also delivers power to the camera.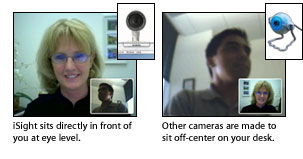 Screen-top
Three stands and a tilt-and-swivel mechanism allow iSight to capture video at the best possible angle. While traditional web cameras sit off-center on your desk, capturing the side of your head iSight sits directly in front of you, at eye level. This provides a more natural, life-like conversation and a more familiar TV-like viewing angle. Its compact size makes it easy to take with you anywhere.

Crystal clear sound
iSight includes a built-in, dual element noise-suppressing microphone that delivers crystal clear audio. The microphone takes in the sound from both microphone elements, then determines which sounds are essential to the conversation with an algorithm that filters out extraneous noise.



You'll look marvelous
But iSight doesn't just look good, it makes you look good, with the highest quality video of any chatting solution. A custom-designed, three-part lens consists of two aspherical elements that focus on a 1/4-inch CCD sensor with 640x480 (VGA) resolution. The camera's lens aperture is a wide F/2.8, allowing it to collect more light than most web cams. iSight also offers a far wider range of shutter speeds than most other cameras. Put it all together and iSight delivers smooth, top-quality, full-motion video at 30 frames per second in 24-bit color.

The result is that whether it's in a poorly lit hotel room or a bright sunny kitchen, iSight will provide true color reproduction and a crisp image. The camera also sports a small green "on air" light that lets you know that you are participating in a live video chat session. One simple twist of the lens cap turns off iSight, ensuring your privacy and letting your buddies know you're no longer available for video and audio chatting.


iSight Technical Specifications
Requirements
Requires iChat AV Software (not included), Mac OS X v.10.2.5 or later, 600MHz G3 processor or higher, Broadband Internet connection.
Sensor
1/4-inch color CCD image sensor, 640x480 VGA resolution
Focus
Autofocus from 50mm to Infinity
Framerate
Full motion video at up to 30 frames per second (FPS)*
Input and Output
FireWire for audio, video and power connection
Audio
Integrated, dual-element microphone with noise suppression
Included Accessories
Three camera stands, carrying case, FireWire cable, FireWire cable adapter

*Performance may vary depending on Internet connection speed


Made for iChat AV
As soon as you connect the camera to the computer and turn it on, iChat AV begins working with the camera. There are no additional drivers to install, no software to configure and no tedious set-up "wizards" standing between you and your first video chat. That means you'll have your first video chat in seconds, rather than minutes or hours. iChat AV automatically detects iSight and connects with it. Simply open the iSight lens cap and iChat AV automatically launches and lets your buddies know that you are available for video and audio chatting.
Download iChat AV Public Beta

---
---
Reaction
"Opens up personal communication in whole new ways"
— Popular Mechanics
More reaction...
---
Featherweight champ

iSight weighs in at a mere 2.3 ounces (63.8 grams) making it easy to carry in your pocket or bag for use anywhere. For convenience and protection, iSight also includes a travel case so you can take it along on trips short or long.

Focus on you


iSight's lens can autofocus as close as 50 mm (2 inches) or infinitely far, so whenever you're in front of your camera, your image is always sharp and clear. iSight also includes an on-board processor that automatically adjusts white balance, sharpness, color, focus and exposure and filters out noise to ensure that the transmitted picture is bright and focused and color is true in any light conditions.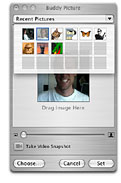 It's a snap
Use iSight to take your own buddy photo. Or two or three. It's easy to show off your latest look to all your buddies.

Just a sec
iChat AV lets you mute the audio while continuing to shoot video, in case you need to have a private conversation in person while keeping a chat open.

Video muting, too
Need a moment offscreen to touch up your hairdo or prepare a surprise? Closing the lens cover mutes the video but doesn't disconnect you from your conversation. To resume visual contact, just reopen the lens.




$149.00